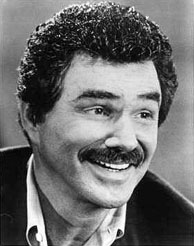 Am I the only person who doesn't think this
Man-Law thing is funny? I've been told I just don't get it. I get it. I just don't see the humor in it. Men everywhere, long plagued by the deep mysteries of life have now begun entrusting their most scrupulous decision-making to a cadre of has-been male celebrities, headed up by the ultimate manly-man of the mid-1970′s, Burt
Reynolds and his latest toupee. I guess Clint Eastwood was busy.
I suppose it's a good thing that men have come up with ways to handle those sticky situations of
just how to clink beer bottles in a rousing toast – tops or bottoms? (Bottoms, tops is too much like kissing since spit could potentially be
swapped.) Or if, when picking up a nacho a second chip is glued to it
with cheese is it one nacho or two nachos? (One.) But are men today such
Neanderthals that they really need Reynolds et al to tell us it's never cool to rip your shirt off your body in a hulk-like display of masculinity (and might I add that this is especially true when one lacks hulk-like musculature). I've actually seen this in action. Not impressed.
Women have been raised for generations with such laws drilled into us. It's called
etiquette.
Emily Post, Judith Martin (Miss
Manners), "The
Rules" have all instructed womankind in our making the world a more
genteel place. A generation or two ago, young ladies were sent to "finishing
school", where they were taught the finer details of social interaction in
nearly every possible situation from how to properly set a table (There's a
reason we get all that china and silver as wedding gifts.) and cross her
legs. (At the ankles, never at the knee, only whores do that!) Seriously…hasn't anyone
ever watched a Martha
Stewart show? I guess it's a good thing that teaching children manners
has been primarily a maternal job.
So when men venture off their recliners, scratch their bellies on the way to
get another beer, and stumble across a giant glass box with a big table in the
middle, we're all supposed to marvel at the genius of coming to consensus on
"Man Laws". Well good for
you, you've discovered the art of having manners. How brilliant,
gentlemen! Why, someone should've thought such a thing eons ago.
Wow! We're so proud of you! (smiles and nods encouragingly)
By the way, the first and foremost "Girl-Gospel" is to let a
man think he thought of something all by himself.